Treeless Mountain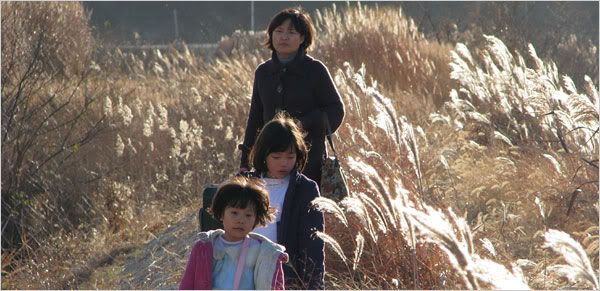 Treeless Mountain, So Yong Kim. [B+] april 21st, 2009.

Standing on the rocky hill where, days earlier, they watched their mother disappear onto a bus and out of their lives, two young sisters stare down at the stop they're hoping to see her at once more. One girl disappears and comes back with a large branch, which the two set about burying into the rocks, propping it up and leaving it standing like a small tree. "That was hard!" shouts the older one before turning back to the station. Nothing comes easily to them, not in a world this big.


So Yong Kim's follow-up to
In Between Days
is in many ways an extension of the earlier film's concerns. In Kim's debut feature, a teenage girl, recently emigrated from Korea, wanders around an unnamed North American city, mostly during the night, constantly under the watchful eye of homogenous apartment buildings and the dim glow of streetlights, dealing with an unrequited love, a new environment, and an uninspiring new life. What the film excelled at was in depicting the terror of an unfamiliar place, the oppressive qualities a city can take upon when one is alone, unsure and sad. This awareness of and focus on environment continues in
Treeless Mountain
. The story concerns two sisters whose mother abandons them in order to find their missing father. She passes them off to their ambivalent aunt, who eventually passes them off to their grandparents, to live on their farm.
The film is simply an account of how these moments come to pass and, more importantly, how the girls deal with them. It's thoroughly realistic in its depiction of these events and narrative trajectory, but its focus is less on narrative than on the effect of these experiences, and so it's also an extraordinarily subjective film. In some wide shots you practically lose sight of the girls altogether, dwarfed as they are by the massive environment around them and the sudden, not entirely understandable changes in their lives. Most of the film is shot in close-up, and in these instances things happening in the foreground of the shot often eclipse the girls, activity that sometimes threatens to obscure them altogether.
In Between Days
was almost aggressively monotonous, which was effective given its subject and narrative, but which also made it something of a chore to watch at times. It was arranged so that many scenes transitioned from one to another linked solely by lingering landscape shots, which wound up giving the film some visible seams that also reduced its sense of urgency and immediacy.
Treeless Mountain
is similarly bogged down at times, but it rises above these things due to the strength of its performances and cinematography. There is a palpable sense of growth and discovery as the girls turn their plight into a game, learning from a new friend how to barbecue grasshoppers and then turning that knowledge into a little entrepreneurial pursuit in order to buy their aunt a pair of shoes. Narratively it attempts to imbue some fairy tale elements onto the story, the younger sister always wears a princess dress, the grandparents turn out to be something like kindly witches, but it's ultimately just another textural touch, a game that Kim seemed to enjoy playing with the film and the girls.
Treeless Mountain
lives off of the texture of the unique experiences it depicts. The thing that glues it all together is the marriage between this exacting subjectivity and the strength of the girls' performances, which are really the centerpiece of the film. Getting a great performance out of a child actor is one thing, but getting an utterly natural one is really something special. Consequently, almost every moment in this film rings true.
Labels: in between days, so yong kim, treeless mountain