Kubrick Fest '06 - Day One: Killer's Kiss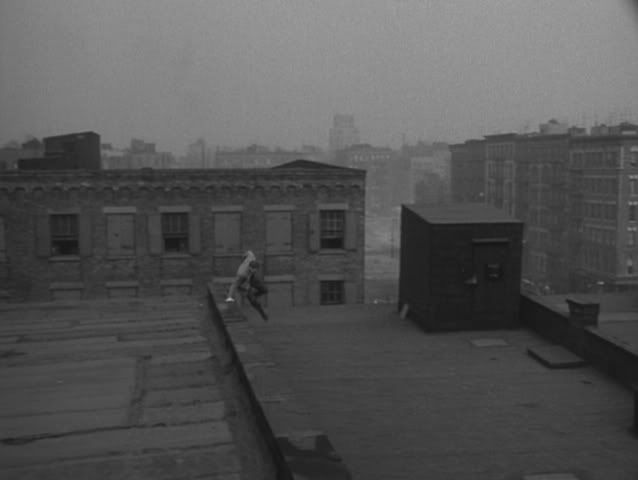 Kubrick's second feature,
Killer's Kiss
(1955), comes as both a disappointment and a relief to me. On the one hand, I was totally ready to believe that this dude was a genius from the get-go. That he made brilliant films from day one and never managed to really screw up too bad. But he withdrew his first film from circulation and this one, which he let stay around, isn't that amazing either. Something about that, to an aspiring filmmaker, is comforting.
Killer's Kiss
isn't a bad movie. It's fine, but it's not amazing. It's not KUBRICK, and I kinda like that about it.
This is a really nice looking film. Kubrick's history as a photojournalist is immediately apparent here. His future meticulousness is also hinted at. I don't know how to put it, but almost every shot in this film feels very thoroughly planned out. There appears to be a lot deliberation behind the compositions that I don't see in a lot of films, unfortunately. Almost each frame would work well as a still photograph, which I think is a good criterion for judging a good shot. There are very few uninteresting images in this film.
As an overall package,
Killer's Kiss
isn't terribly stunning. The story is fine, but not particularly captivating and the acting isn't too hot, so it's really just kind of neat to see as a precursor to Kubrick's "proper" career as a filmmaker. The on-the-fly feel of the film is cool, too. It's clear this was made very cheaply and I like seeing aspects of that in the film, and how they were overcome. There are some stunning handheld street scenes that look like something straight out of Cassavetes'
Shadows
or Godard's
Breathless
, which is all the more surprising and impressive because this film precedes them by half a decade. They were shot this way primarily out of necessity, and yet in them I can see a precursor to a new style of cinema. That's exciting to me.
Also: there's some wonderful stuff in this film with regard to images within images, reflected images, etc. The initial moment where you see Davy (Jamie Smith), the pugilistic main character, in his apartment and his next door neighbor and love interest, Gloria (Irene Kane), can be seen out his window and through hers in her kitchen totally took me by surprise and got a big stupid grin out of me. There's some wonderful use of mirrors in the apartment and office scenes, as well.
And then of course there's the famous marionette factory sequence at the end, where Davy and the main villain, Vincent (Frank Silvera), play a game of cat and mouse among the various statues scattered about the huge room. The sheer number of human shapes scattered about the room helps mask both Davy and Vincent among them, so that their own skin becomes a form of camouflage. This, of course, wouldn't translate on color film because the actor's skin tones would have stood out against the solid white marionettes, but it works beautifully in black and white and is, more than any other scene in the film, probably why it's so often cited by historians and critics, an early indicator of Kubrick's skill at using imagery and abstraction to confuse and otherwise disorient his audience. His awareness of the black and white film stock's effect on the appearance of this scene also betrays his future involvement with film technology and innovation, although maybe that's a bit of a stretch. The fact that the marionettes that have been serving to disguise Davy throughout this scene later "betray" him by pointing him out to his pursuer is another brilliant touch.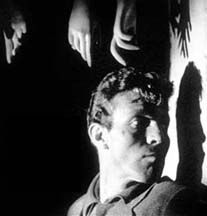 Labels: killer's kiss, kubrick