Happy Together, but really the post is mostly about me and this thing.
As the format suggests, this is one of those things that started as a tiny blurb in the film log and expanded in size to the point that I felt like posting it on its own. I haven't set out to do a
post
post in a while now, but maybe soon. If I ever get around to watching the next film in my 8 year long Kubrick fest. Anyway, this one goes a little out there and I'm almost reluctant to post it at all, but it wouldn't really be in the spirit of things if I didn't and really who am I protecting myself from?
I'm gonna stick with this monthly film log thing for the remainder of October, but I've been thinking and realizing that not every post I make needs to be a big huge meaty substantial 500 word essay or whatever (You know I actually went to a post, copy/pasted it into Word and did a word count just to make sure that my estimate was accurate? I just stopped mid-sentence!), just that I ought to say some interesting things in them and keep this thing going. I like the idea of running a blog like this and I think having regular updates of substance means that I don't need to turn this into a writing assignment kind of thing. This should never be homework.
So anyway, starting in November I'm gonna be doing a regular posting of fragments of the log, something like every three films or days or whatever other arbitrary criteria I come up with to justify my posting. This is also meant to serve as a motivator, because since the semester started I've seen a lot more films (30 so far this month! [6 shorts.]) and it's getting hard to keep track. With the monthly thing I let myself get complacent and say something like "I'll write about it later."
So anyway, that's what's up. Here's my thing on Happy Together.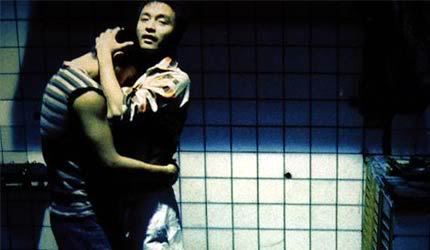 Happy Together, Wong Kar-wai. [B+] october 23rd 2006.
[God damn it dude, I love Wong Kar-wai. I don't own a single film of his on DVD, but he might be my favorite living filmmaker. It's weird. You know what else is weird? I don't necessarily love his films. I love his aesthetic, his sensibility, and I love the feeling I get watching his films, but I don't know if I'd classify any of them as favorites. It's this sort of bizarre hybridization of ambivalence and absolute infatuation. That's also not entirely accurate, because some of his films I absolutely love. It's tough to articulate. I love them and don't love them. They're always under my skin.
Fallen Angels
is my favorite, but there isn't a single one I haven't enjoyed.
Maybe the fact that my reaction to his films is ineffable is part of why I love them so much. I can't imagine how he goes about making his films, but I guess he doesn't really know either, considering how long his shoots go, sometimes. I'd love to be on set, helping out and watching this man work. Maybe that's an idea for an internship. I somehow doubt that would ever happen, though. Anyway, this is a real lovely movie, though I can't really tell you much about it. I want to watch it again, I can tell you that. And I guess I can probably tell you a decent amount about it, but I don't really want to.
Sometimes I'm lazy, I guess. I just don't really feel like talking about Wong Kar-wai's films in general, except to gush over them. I'm all about the intellectualization of cinema and all that, but I have a hard time reconciling that with the fact that I feel that films are largely experiential and should primarily be dealt with in this way. But I guess that's reflected in the way I often write about them: "Dudes, this fuckin thing was really great!" You know those guys that document their acid trips and post 'em on the web in this sort of stream of consciousness way? I feel like that's a really good way to talk about movies. Your emotions guide you through the experience. Alejandro Jodorowsky once said that he demands of cinema what others demand of psychedelics, and while that's especially true of his cinematic vision, I think the sentiment is applicable to films as a whole. At least when you want it to be. Otherwise, it's not. When I spoke about Chantal Akerman's film, "Jeanne Dielman," earlier this year, I had a more coldly intellectual tone, at least I think I did, but I was still just more or less stream-of-thoughting it and trying to work out my thoughts on the film immediately as they came to me. I mean, I went back and edited for readability, as I tend to do through these, but I don't really self-censor.
*
This has been my tendency for a while. I write papers for school like this, minus the "dudes" and the curses, but with the same tone and overall flightiness. (Well, that's not entirely true, but whatever. I haven't even always been writing this blog like this. Not
entirely
, anyway

.

) I guess I'm evaluating my own writing style now and (maybe) coming up with the foundations of some sort of a personal critical style, although this isn't really foundational stuff so much as refinements of existing archetypes. Beyond which, I'd like to think that my

general

overall style is still at least a little bit respectable. Sorry if this post comes off as masturbatory or whatever, writing about my writing, but it's interesting to me and it's all coming out pretty quickly, no pun intended. I feel like this is important stuff I'm sorting out right now, although I'm not certain what it is I'm realizing. Regardless, I feel something going on in my head, like a lock turning in a key. You do psychedelics just once in your life and you wind up talking like this for the rest of your life. Jesus. Also, the coffee. Eh, but now I'm back in my usual defensive apology/clarification of context thing that I do, and now I'm in my self-aware commentary on said apology and now I'm in my awareness of that and it becomes this bizarre self-reflexive defense mechanism that kind of nullifies itself. I'm turning this blog into completely unreadable drivel.

That's alright, though. I feel as if this one is different and as if I've gotten somewhere with this little blurb and as if I've laid myself out a little more bare than I have a tendency to and I think this has been useful. I hope it's been interesting, too. Cheers.]

* That said, and I think this post is guilty of it (I'm writing this sentence after I finished the post and maybe it's symptomatic of that self-reflexive nervousness I speak about further down) I might be getting a little too cute or blasé. I was writing instantaneously, but I had a bunch of thoughts formulated and a general outline in my head before I sat down to write. Anyway, back to it.
Labels: happy together, wong kar-wai