3 days in the life.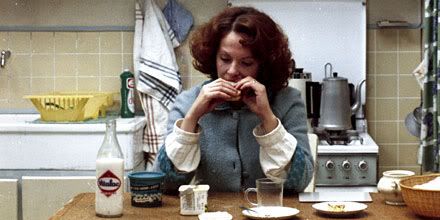 So I was originally going to post the next installment of my 5 year long Stanley Kubrick Fest '06, but I saw a movie yesterday that I kinda wanna talk about.
I saw Chantal Akerman's
La Captive
about 6 or so months ago and was pretty blown away by it. It was slow, but never boring, captivatingly mysterious and thought-provoking. It subtly steered my thinking in various directions without feeling at all like it was holding my hand or being patronizing. Simultaneously, it left itself open in many ways for interpretation. I don't know what it was about the style and narrative of the film, but it was one of the most engaging experiences I'd had with a film, or any other type of work of art for that matter, in a long while. I wanted to see more by Akerman, who I'd previously never heard of, but didn't know where to begin. Someone recommended
Jeanne Dielman, 23 Quai du Commerce, 1080 Bruxelles
, which left me keeping my eyes peeled for screenings. Thanks to the Harvard Film Archive I finally got a chance to see it.
The very first thing I noticed about this film, in relation to
La Captive
, was how beautiful and colorful it was. Which isn't to say that
La Captive
wasn't a very nice film to look at, but it worked with a much darker, more limited palette than
Jeanne Dielman
. The sets in this film are surprisingly colorful, the images so perfectly, formally composed that you can't help but be struck by the photography. The camera remains motionless throughout the course of this nearly three and a half hour long film and yet it is almost always visually captivating.
Jeanne Dielman
painstakingly documents three days in the life of a Belgian widow, choosing to document the minutiae of her life in unrelenting detail. Throughout the course of the film, you will see the titular character take a bath, prepare a meal, prepare the table, wash the dishes, all in real time. All with a non-moving camera and with about 3 different angles assigned to the different rooms of the apartment she shares with her son. It's oppressive, but remarkably captivating. The framing, the ornate set and the wonderful performance given by Delphine Seyrig all serve to make this a surprisingly inviting and watchable film, relatively speaking anyway.
The first day proceeds fairly uneventfully. Jeanne's clacking footsteps seem to be amplified, and her movements are mechanical, something that zeroes you in on her routine very quickly, and also really effectively communicates the oppressive tone and feel of the film. This is a routine she does every day and she is proficient at it. Everything seems to be going normally until she gets a visit from a client and we learn that, in addition to maintaining a household, she is a once-a-day prostitute. Her relationship with her teenage son is cold and distant, they exchange a minimum of pleasantries and go about their own business, except at the end when Jeanne's son asks her about his father and she more or less tells him that she never loved him. Her son says that if he was a woman, he could never make love to a man he didn't love. She tells him he has no idea what he's talking about, he's not a woman.
It's a fascinating exchange, and one that I think lies at the heart of this film. As the film progresses and Jeanne's descent into a sort of domestic madness really starts happening, we realize that she's been subject to the needs of a man she didn't love for the greater part of her adult life, and even more than that, to all men, always. She's pressured to marry by her parents, she does. She has a kid, she takes care of him. It's nothing more. When, and I guess I should warn you that this sentence contains a pretty big spoiler, she eventually murders one of her clients, it's as if she is burning an effigy of her dead husband and of all men, I guess. When she kills this man, it is as if she finally kills the thing within herself that holds her to this life, and the ambiguous final shot doesn't really communicate whether she killed herself, if she dies of strange natural causes related to this symbolic inner destruction, or if she just dozes off at the table. It doesn't matter how she dies or even if she dies, she's dead. I've written a simplistic summation of a fairly complex presentation of this idea, but I think it's accurate. When Jeanne babysits the neighbor's infant child on the last day, it shrieks and bawls uncontrollably whenever she tries to hold it and calms down when it's in its crib. This may sound heavy-handed, but it's not. It'd be funny if it wasn't so devastating.
The actual breakdown that Jeanne Dielman has throughout the course of the film is perfectly rendered. There were moments in the theater where I actually felt myself going crazy along with her. The perfectly executed routine of the first day is perfectly photographed, choreographed, edited. By the second day, she starts making small mistakes here and there, the editing starts stuttering a little bit when it comes to her entering and exiting the frame, creating a sort of uncomfortable sense of displacement and mounting urgency to her routine and when she finally makes a mistake preparing the potatoes for dinner, it is seriously a big deal. By the third day when we start seeing new camera angles we'd never seen before, it's difficult to even zero in on the beauty of these wonderfully framed shots, because the sense of discomfort received from getting all this new visual information so late in the film overpowers the pleasure.
On the third day, during a 10 minute, or who knows how long I guess, uninterrupted shot of Jeanne washing the dishes, I saw that one of the dishes she put in the drying rack had suds going down it and I actually kind of freaked out a bit in my seat. I stared at the suds sliding down and couldn't handle it. When she finally grabbed the plate and rinsed it off, then replaced it on the rack, it was a huge relief. It's fucking nuts that a movie can do that to you.
Jeanne Dielman
is so densely packed with stuff to talk about that I'm almost embarassed to put this pretty cursory look at it out as on offering, but I can't begin to think about what the experience of writing a really long, focused piece on it would be like. Writing about it in this way helped me to think about it more and, I think, got me to understand some things about it that I had previously been confused about, so I guess this blog is starting to serve the initial purpose I had for it. Not to end this post completely like an elementary school book report, but I really recommend you check it out.
update:
I was googling this movie trying to read more about it, because I really can't seem to get it out of my head, and I came across
slant magazine's write-up of it
. I think it's really pretty great and worth reading if more information on this movie is something you're seeking. That last sentence was written by Yoda.
Labels: chantal akerman, jeanne dielman