People Like Frank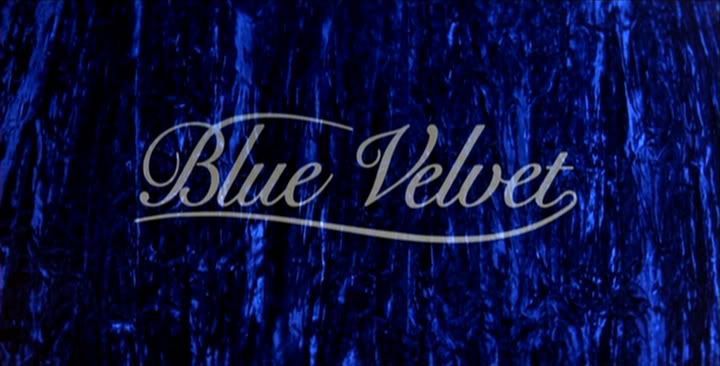 After reading David Foster Wallace's essay on Lynch, "David Lynch Keeps His Head," a week or so ago, I'd been jonesing to watch
Blue Velvet
(1986) again. When I first saw it a few years ago I thought it was a really good movie, but I didn't like it as much as
Mulholland Drive
or
Eraserhead
or anything else of his that I'd seen. It wasn't out there enough for me, not "Lynchian" enough, too narrative. This viewing has me me jumping on the "
Blue Velvet
is his masterpiece" bandwagon.
Since I'm on that David Foster Wallace tip, let me start by saying that the whole "seedy underbelly" take on
Blue Velvet
may well be a mistake on the part of a lot of the critics that spout it. Evil, and I think we can refer to Frank Booth (Dennis Hopper) as a pure distillation of evil, is not something that lies underneath the surface of society, or more appropriately humanity, but rather runs parallel with it, is embedded within it. I mention DFW because this is one of the main points about the film that he makes in his essay and I don't wanna be a rip-off. I'd like to think I would have reached that conclusion on my own even if I hadn't read his take on it before watching the film for what is arguably the first time, but I'm citing my sources because I'm a good school-going kid with the fear of expulsion in my heart. I say "first time watching it" because at the time I first saw it, I think I was tired, I wasn't paying much attention. Me and my friend were talking a lot, too. Anyway, the only things I really remembered from it were fragments of scenes. Mainly stuff I thought was funny like "FUCK THAT SHIT! PABST BLUE RIBBON!"
That's the thing about
Blue Velvet
that isn't mentioned too often, in favor of discussing how disturbing it is: it is

funny at times. Moreso, Frank is funny. It's an alarming thing. Maybe it speaks volumes about me more than anything else, but the line where he calls Dorothy (Isabella Rossellini) "tits" is something that elicited a chuckle from me. As did, and maybe this is really messed up on my part, "Baby wants to fuck!" I find it funny that in the context of this movie something as offensive as that is not offensive to me on the level that I fault the film for it. That is to say, it's an offensive thing, but it's an offensive thing that an offensive character is doing, something that results in making it sort of inoffensive and even funny. Meanwhile, I watched Stanley Donen's musical,

Funny Face

, last night and found myself getting greatly offended by its blissful anti-intellectualism and misogyny. I guess an offense that's meant to offend in order to further the plot or character is occasionally not personally offensive, although Roger Ebert doesn't seem to think so, at least when it comes to this film. I'm straying. The big thing here is Frank is an entertaining character, although he often veers from being entertaining to being terrifying, something that I think partially reflects what Lynch is trying to say about the capability for evil in people.

A couple times in the movie we see people watching suspense films, and they're always about to witness a murder in the film, which we never see. I think part of Lynch's agenda here is to demonstrate how perfectly nice people can take pleasure in acts of violence, even if they're just pretend. That's simple, but it's later reflected in the way that Jeffrey (Kyle MacLachlan) allows himself to become violent when he eventually has sex with Dorothy and she begs him to hit her. He has the urge for violence in him and so does she. He discovers his limit later in the film when he is forced to kill Frank and finds himself genuinely horrified by it. He isn't Frank, but there are elements of him inside. That's why the question "Why are there people like Frank" more or less gets answered later by Frank himself: "You are like me." And of course, as DFW notes, he's looking directly in the camera when he says this.

We

are like him.

I outlined the logical identification with Frank/evil running parallel with humanity stuff earlier on in this post. The way that these things are communicated in the film is pretty interesting. Jeffrey is an identifiable nice guy, who we the audience associate with. Lots of subjective POV stuff to really demonstrate how in his head we are. So as Jeffrey starts his transformation, his dive into evil, we are with him, a part of him. We are now starting to feel it. This is when Frank goes from the monster we see in the closet to the funny psychopath we see at Ben's place. We are entertained by him, we think he's kinda funny, and then he turns into a monster again. That's when the fear comes back and the balance is established. Jeffrey is somewhat restored back to lightness, but after his initial release of violence, he appears to have taken some of that darker side of him to heart. He keeps it with him. When his grandmother keeps asking him about the bruises on his face, despite his repeated protests, he jokingly threatens to hit her.

At first I thought that when Frank inevitably dies at the end, Jeffrey, by the law of entropy or something, would turn even worse to balance it all out. I'm glad that didn't happen. The evil was confronted, but it's not gone, though it's not all consuming either. Sandy's (Laura Dern) metaphor for love, the robin, appears at the happy ending of the film and it is holding a writhing insect in its mouth. I think that sums things up pretty perfectly.

I guess that's why I like this movie. In its simplicity, it becomes very complex. Initially, as I said earlier, I didn't like this movie as much as Lynch's other stuff because it wasn't weird enough or abstract enough. It defied my expectations in that sense. I don't know if I believe what I'm about to type, but it occurred to me and I had it noted as a thing to touch upon, so I'll at least throw it out there.

Blue Velvet

's effectiveness, as opposed to that of

Lost Highway

or

Mulholland Drive

, is that in its more straight-forward, traditionally narrative approach it manages to still retain many of the characteristics that make Lynch's films so enjoyable, while also resulting, oddly enough, in the communication of more abstract ideas. The story is so taut that the themes swimming through it become much more loose and fluid, so in a sense the ratio of ideas to story in this film is reversed in relation to his others.

Eraserhead

is so out there and filled with abstract images and scenes that by the end of it, all I can really glean from the film is that it's about the dread of becoming a parent. The narrative is obscured, resulting in the ideas becoming rather concrete.

Blue Velvet

's story is very straight-forward, resulting in the themes and ideas being explored becoming more abstract and difficult to place. Like I said, I'm not sure if I entirely buy this. I do believe that this movie has more going on under the hood than some of his others, but that could just as easily be attributed not to this arbitrary "story to idea ratio" that I cooked up, but to the fact that those appear to be more visual and textural explorations while this film is more of a thematic one. Regardless, I think there's a lot to be said about this film, and I feel as if I've greatly simplified the stuff I set out to talk about when I initially started typing this post up. In conclusion,


Labels: blue velvet, david lynch